Born in 1965, by the age of 14 I had already built my first performance small block Chevy engine which I raced for many years in my super pro Chevy Vega. During this period of time, I was working as a mechanic in various automotive dealers in the Montreal, Canada area. My hobby was building performance products for street and drag racing.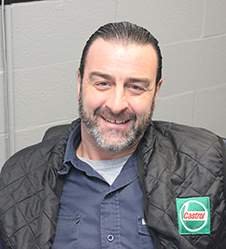 Rudy Costenaro, owner and founder of RPS
In 1988, I decided to try a different racing style, stock car racing. By 1991, I realized my passion was drag racing. In 1992, I purchased a full-tube chassis super gas race car which I raced till 2002 when I decided to sell it to concentrate more on my business.
Today, father of two boys, I am still very actively involved, and have recently tuned racers to season championships. Thanks to the moral support of my wife and kids and the ongoing support from my loyal customers, I am looking forward to servicing customers for many more years to come, delivering the highest standards in quality and perfection to all of my clientele.
My Current Workspace
I recently moved into my new location, allowing me to service more of my customers at once. Take a look at these photos to see how I keep my workspace proper, allowing me to service vehicles with ease.